Snap Seam Metal Roofing
Snap lock metal roofing panels are the perfect solution for protecting your home from the elements. Our panels are made from highest quality materials and come with a lifetime manufacturer's guarantee, ensuring maximum protection and durability. Get yours today from BRS Roofing Supply in Atlanta and you'll be on your way to a secure, long-lasting roof!
Snap lock metal Roofing has rugged 1.75″ high ribs, enabling Snap Seam to be installed over open framing or solid deck structures. Snap Seam is built from the core for performance – from high-strength alloy core and multi-layer baked-on-paint, to snap-lock design and UL90 clips.
---
Design & Size Of Snap Seam Metal Roofing
Snap lock metal roofing is designed to fit all kinds of roofs. Our snap lock panels are available in 1-foot or 2-foot widths, with 3-foot and 4-foot options available upon request. No matter what size you choose, our snap lock metal roofing ensures lasting protection without compromising on style. Talk to our team today to discuss your needs and find the perfect panel for your property.
We provide Snap Seam custom cuts to the inch per specifications. Any length is available from 3′ up to 45′, or onsite to any length. Snap Seam's design features 1.75″ high snap-lock style ribs – standard width is 14″ with additional options for 12″, 16″, or 18″. Thickness options include 26 and 24 gauge as standard and 22 gauge optional.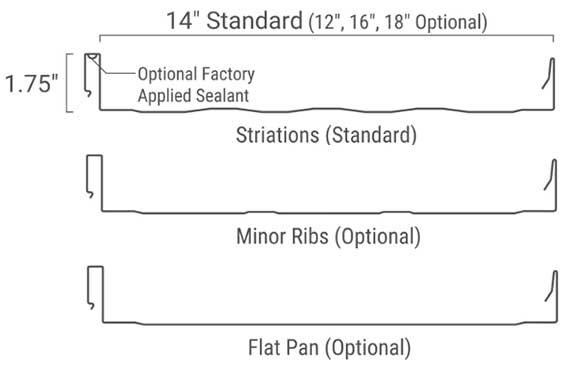 Size

14" Width Standard (Coverage); 12", 16", 18" Optional
Cut to Inch From 3'-45

Ribs

1.75″ high ribs at 14″

Gauge & Weight

26 Gauge - 0.94-1.06 Lb / Sq Ft (check width)
24 Gauge - 1.22-1.38 Lb / Sq Ft (check width)
Snap Seam Metal Roofing Warranty
BRS Roofing Supply in Atlanta offers a generous warranty for all of their snap lock metal roofing panels. With up to 40 years coverage, you can rest assured knowing that your roof is well-protected. On top of that, all our panels are designed to look beautiful even after years of wear and tear. Invest in superior quality protection now with BRS Roofing Supply's snap lock metal roofing!
Finish & Warranty

Painted: 40 Years
Galvalume: 25 Years
Purpose & Use Snap Seam Metal Roofing
Snap Lock metal roofing panels are designed to provide superior protection against outdoor conditions. The panels are strong, durable, and feature a unique snap-lock system for easy installation. Our panels can be used to cover both commercial and residential properties, providing lasting protection that lasts for years to come. Get the most out of your investment with our high quality snap lock metal roofing at BRS Roofing Supply in Atlanta!
Snap Seam can be installed over solid decking on slopes as low as 1:12 and open framing on slopes as low as 3:12.
Taller ribs with optional factory applied sealant provide strength and lock out the weather.
Minimum Slope

1:12 over solid decking, 3:12 over open framing

Substrate

Solid Deck Open Frame

Intent

Residential , Commercial
---
BRS Roofing Supply offers a wide variety of colors and coatings to choose from for your snap lock metal roof panels. We understand that different properties call for different looks, so our experts can provide custom color matching in order to make sure your roof perfectly matches the aesthetic you're going for. Our panels are available in classic shades of white, gray, and brown as well as specialty colors such as black, red, and blue. Take advantage of our commitment to excellence today!
Energy Star®
Painted R-Panel/PBR-Panel finishes are Energy Star® rated, reflecting 25-67% of the sun's rays.