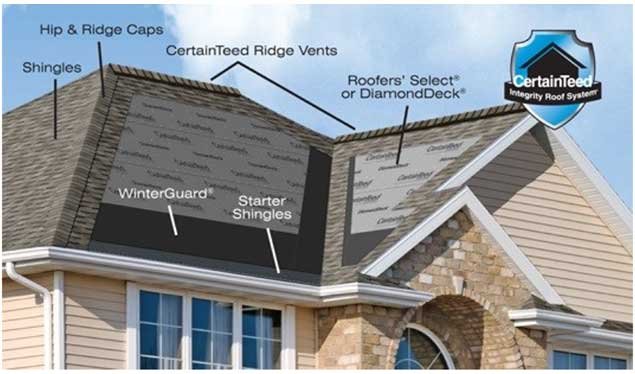 CertainTeed  Roofing Systems.
CertainTeed offers a full-coverage roofing system designed to last. The Integrity Roof System® is composed of several different high-quality component products that work together to protect your home from the elements. We guarantee each component and the finished product meets the highest standards for quality and performance.
CertainTeed Roofing Systems provide residential customers with a quality roof system for their homes, garages and other residential applications. Asphalt shingles are the most common type of residential roofing product and come in three categories: strip shingles, dimensional shingles and premium shingles. Underlayments are also available to provide an extra layer of water-resistant protection while accessory products such as hip and ridge accessories, attic ventilations systems and starter shingles are designed to enhance the roof system's overall performance.
The CertainTeed Integrity Roof System is designed to give you peace of mind by ensuring that each component will fit into the larger system as intended. The roof system consists of a variety of elements, but when selecting roof components, it's important to trust one manufacturer for all components for maximum protection—so that if something should go wrong, you know who to turn to!
Energy Star®
Painted R-Panel/PBR-Panel finishes are Energy Star® rated, reflecting 25-67% of the sun's rays.