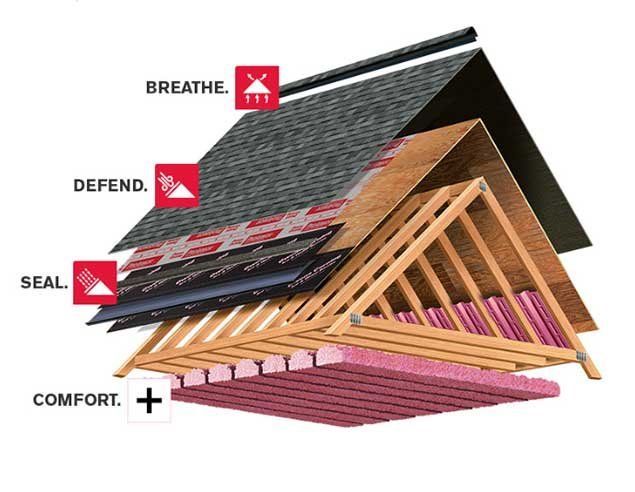 Owens Corning Roofing Systems 
Owens Corning Roofing Systems features the Total Protection Roofing System® that combines science and design to be both aesthetically pleasing and long-lasting. This system delivers a three-dimensional approach of protection for the roof deck, specialized shingle protection and ventilation to reduce warm air getting trapped in the attic. To further optimize value, comfort and performance, attic insulation meeting current Department of Energy requirements can be included in the Total Protection system.
One System. One Brand. Total Protection.™
SEAL:

Powerful two-part protection helps keep moisture away from the roof deck.

DEFEND:

Three kinds of shingles work together for specialized protection on each part of the roof.

BREATHE:

  Proper ventilation helps create a balanced flow where warm, humid air is continually replaced by cool, dry air.

COMFORT

: Optimize value, comfort and performance by adding attic insulation to meet current Department of Energy recommendations.
Energy Star®
Painted R-Panel/PBR-Panel finishes are Energy Star® rated, reflecting 25-67% of the sun's rays.