Loc 100 Standing Seam
100 standing seam metal roofing from BRS Roofing Supply in Atlanta is the perfect choice for any property owner looking for an attractive, durable, and long-lasting roof on their home or business. Standing seam metal is ideal for areas with high winds and humidity, making it a great option for any home or building in the greater Atlanta area. Invest in quality and durability with metal roofing from BRS Roofing Supply.
---
Design & Size Of Loc 100 Standing Seam
Standing Seam Metal panels  is a charming standing seam roof system with 1″ high ribs at 16″ apart. A hidden fastening flange allows fast installation and locks out wind and water. Titan-Loc 100 is our most popular standing seam design. We manufacture Titan-Loc 100 on-site or in-facility.  
Standing seam metal roofing from BRS Roofing Supply comes in a variety of designs, sizes and colors to fit any roof. You can customize your roof with multiple profile options, giving you control over the look and feel of your home or business's exterior. Choose from vibrant colors like Forest Green, white and charcoal gray to match any style. With a large selection to choose from, you're sure to create an eye-catching look that lasts for years.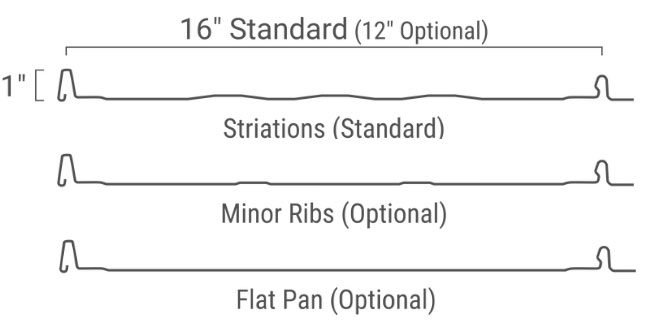 Size

16", 12" Width (Coverage)
Cut to Inch From 3'-45'

Ribs

1″ high ribs at 16″

Gauge & Weight

26 Gauge - 0.92 Lb / Sq Ft
24 Gauge - 1.19 Lb / Sq Ft
Loc 100 Standing Seam Warranty
When you invest in BRS Roofing Supply, you can trust that all 100 standing seam metal roofs come with a manufacturer's warranty. With a warranty of up to 40 years depending on the specific tank, you'll know your roof is safe and secure no matter the weather. Let us help you find the perfect roof for your home or business—you name it, we'll provide it!
Finish & Warranty

Painted: 40 Years
Galvalume: 25 Years
Purpose & Use Loc 100 Standing Seam
Stand seam metal roofs are incredibly versatile, and they can be used to create all kinds of different shapes and designs. From a low-slope classic look to a modern look with curves and angles, standing seam metal roofing makes it easy to create the perfect style. Whether you're looking for something that's sleek and modern or a timeless classic look, BRS Roofing Supply has your 100 standing seam metal roof needs covered.

A standing seam metal panel is a versatile all-around standing seam metal roof system. It blends with almost any architecture with incredible strength and a life-time duration.
Minimum Slope

3:12

Substrate

Solid Deck

Intent

Residential, Commercial
---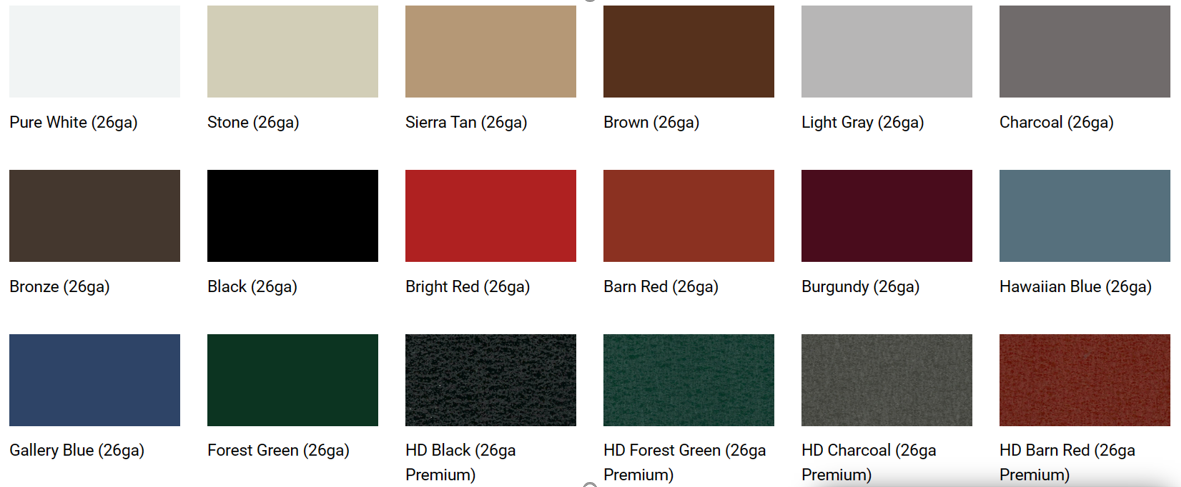 With 100 standing seam metal roofing from BRS Roofing Supply, you can create a unique look for your home or business. Choose from a variety of colors to get the exact aesthetic you're looking for. From classic black and white to more vibrant hues like red and yellow, there are plenty of shades that make it easy to find the right match for your project.
Energy Star®
Painted R-Panel/PBR-Panel finishes are Energy Star® rated, reflecting 25-67% of the sun's rays.