Metal roof systems are those roofs that are made from meals. Such roofing systems are resistant, impermeable, strong, and very durable. These roofing systems are very popularly installed. There are varied types of metal roofs like Steel, Copper, Zinc, etc. The greatest advantage of a metal roof is durability. Metal roofs are capable of withstanding weather elements, severe wind, or rain. Metal roofs strongly handle all weather conditions and add great value to any building. If you are planning for metal roof installation then you have thought of the best solution for your roof needs. Get your building a perfect roof from BRS Roofing Supply.
Metal Roofing Company in Atlanta GA: We have a broad range of metal roofs. There are the best brands of roofing with us. Our roofing systems are very reliable, they are made to deliver high-performance. We are committed to offering only the best quality roofs for both commercial and residential buildings. Our service and our products are very reliable. We are the one-stop solution to first-class roofing. Add a strong protection and durable attractiveness to your building by installing the metal roof of our company.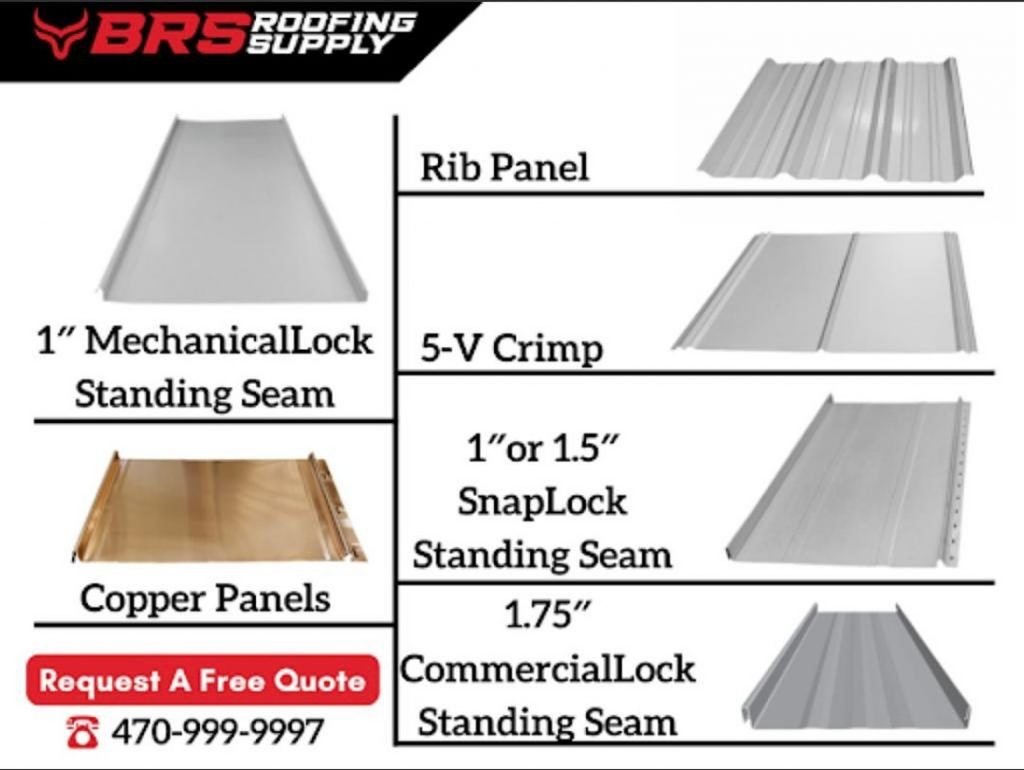 BRS Roofing Supply is known for sustainable and high-performance roofing products.

We are a trusted metal roof dealer; we know what you want. Our years of experience have made us aware of customers' needs. With the changing times and changing demands, we have always tried to cope and have never failed. We have always succeeded in delivering the exact product customers searched for.
Don't worry because you have reached the best roofing supplier where you will find excellent metal roofs of different colors and textures, we offer the best brands of products at super reasonable rates. Choose no other than us for metal roofing installation. So, without waiting for more, contact us soon.
Metal Roof Supply Company Atlanta GA: The reliable roofing company in Atlanta got you covered.
Take a look at our available options –
• Rib Panel – It is available in both 26 and 29 gauges.
• 5-V Crimp – Offers the aesthetic look and comes in both 26 gauge and 29.
• 1" MechanicalLock Standing Seam – Available in 24 and 26 gauge
• 1" or 1.5" SnapLock Standing Seam – Used for high profile homes and buildings. This comes in 24 or 26 gauge.
These were some of the metal roofs, there are others. We even have Copper roofs with us. Every metal roof of ours is perfect.
Why Choose Us?
• We have been operating in the roofing industry for years and understand different roofing well.
• Broad collection of roofing.
• Assurance of the highest quality and durable metal roofing products delivery
• Free quote is available.
Contact us to know more.
The best metal roofing supply is promised.